Introduction to the Faculty of Nursing
Teaching the fundamentals of nursing and nurturing human resources to work at the forefront of public health care
In addition to endowing working knowledge and techniques the curriculum also focuses on fostering humanitarian values
Nursing specialists work not only in order to help people who suffer from illnesses to sufficiently regain the inherent functions of the human body, but are also involved in various activities aimed at preventing diseases, and maintaining and improving health in healthy people. Therefore, a future nurse-to-be needs to understand the values and way of thinking of those who need assistance, and anticipate their response and behavior. In other words, a nurse is required to possess such qualities as deep human understanding, integrity and strong ethical values, a very broad education and independent thinking.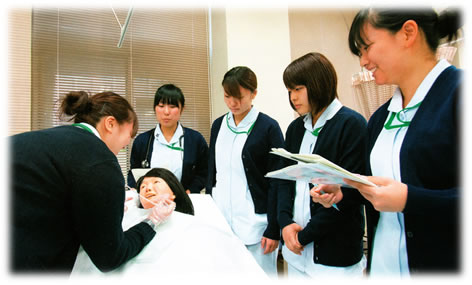 That is why we have designed a curriculum that, in addition to teaching advanced professional know-how that comprises the basics of nursing in clinical practice, is also focused on fostering humanitarian values and building up a broad general education. In the training process, we place particular emphasis on cultivating the ability to independently organize and undertake nursing assistance, while compassionately accepting the feelings of the patent and making decisions based both on ethical values and scientific knowledge. The students learn scientific foundations and practical nursing skills, as well as methods for examining patients' health problems and developing, implementing and assessing nursing care plans.
Also, in order to help students better adapt to increased use of IT in the medical care field and advancing sophistication of healthcare information, we educate students on how to use IT in clinical practice, with the focus on computer literacy, as well as abilities to process and assess information.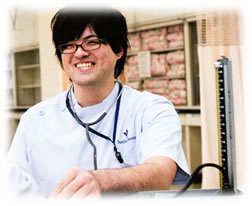 Study of professional subjects and practical nursing training start from the first year, facilitating students' interest in nursing science
Practical Training Content
At the Faculty of Nursing of Iwate Prefectural University, the students begin studying professional disciplines and receive an opportunity to acquire basic nursing skills through practical training during the first year of their education. Getting acquainted with nursing practice at an early stage arouses intellectual curiosity and encourages further learning.
Practical training, in addition to that at hospitals and other medical institutions, is conducted at various public health care facilities, including municipal healthcare centers that develop their activities in close connection with local communities. Such training allows students to integrate theoretical knowledge obtained in the classroom with practical experience.
As for the concrete training content, "Basic Practical Nursing Skills Training" that begins from the first semester of the first year provides an opportunity to learn about real nursing care work in hospitals and cultivates an understanding of how important it is to acquire the ability to compassionately understand patient's needs and feelings, as well as proper nursing skills. During the second year, the students, while honing their abilities to understand patient's needs and feelings, learn skills to decide upon, implement and assess the nursing care that is required for each particular patient. From the third year, the students go through six nursing care professional practical training courses allowing them to practice nursing care methods optimized for the individual specific needs of particular patients. In addition to life cycle-based courses, "Child Health Nursing Practice," "Adult Health Nursing Practice" and "Gerontological Nursing Practice," these courses also include "Maternal Health Nursing Practice" dealing mainly with mother and child health during pregnancy, childbirth and child care periods, and "Community Health Nursing Practice I" targeted mainly at residents of local communities. Fourth year students also attend "Comprehensive Nursing Practice" to obtain more practical experience of working within the "team approach" framework with the aim of enhancing their ability to adapt to particular situations and further improve clinical nursing care skills.
In addition, such practical sessions as "Community Health Nursing Practice II/III" in the Health Care Course (in the third and fourth years), "Obstetrics Nursing Care Practice I/II" in the Obstetrics Course (in the fourth year) and "School Nursing Practice" in the Teaching Course (in the fourth year) allow students to improve their practical skills in each professional field.

In addition to the qualification for nurse certification, optional courses allow students to obtain qualifications for public health care nurse, midwifery specialist or teacher
Graduates of the Faculty are eligible to take the National Examination for Nurses. In addition, the students, through their own choice, can select one of three optional courses: public health care nursing, midwifery or teaching. Those who have completed the public health care nursing course, midwifery course or teaching course are, accordingly, eligible to take National Examinations for Public Health Care Nurses and Midwifery Specialists or can obtain a teacher's certificate for high school [health care] and school nurse certificate.
Available Qualifications and Licenses
Eligibility for admission to the National Examination for Nurses
Eligibility for admission to the National Examination for Public Health Care Nurses
Eligibility for admission to the National Examination for Midwifery Specialists
Teacher's Certificate For High School [Health Care]
School Nurse Certificate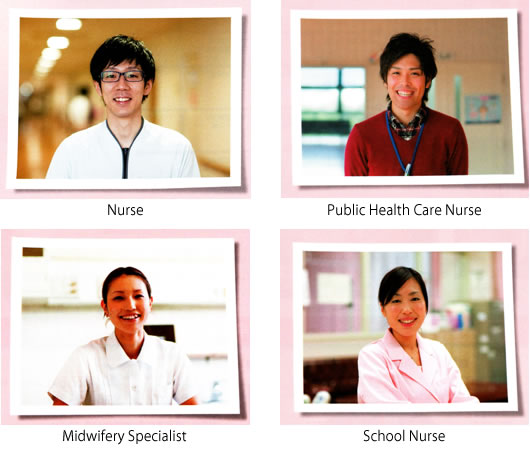 Cultivating nursing professionals possessing a broad international outlook
In addition to participation in exchanges with universities and other institutions in China and South Korea conducted by the University as a whole under international exchange agreements, the Faculty of Nursing, pursuing the aim to nurture internationally minded nurses with an awareness of global health, has established original opportunities concentrated on specific disciplines and subjects.
At the mandatory "International Nursing Care" course, the students, along with participation in overseas nursing care assistance programs, learn about providing nursing care to foreigners in Japan. Beside this, the optional "International Nursing Care Practicum" course encourages students to independently re-consider problems and tasks of public health care and nursing practice from an international perspective based on personal experience.
As for international exchanges, there are overseas professional training programs at the University of Washington (USA) and distance learning classes held through a remote communication system together with the University of North Carolina in Wilmington. These programs enable students to directly communicate and exchange experiences and ideas with nursing department students abroad. Moreover, having signed financial year the International Exchange Agreement with Plymouth University (UK) in fiscal 2011, we have been conducting educational and scientific exchanges with this university as well.
Thus, the Faculty of Nursing of Iwate Prefectural University has been making strenuous efforts to cultivate internationally minded nursing professionals by actively conducting exchanges with nursing students and instructors of overseas universities, as well as local people throughout the world.